We inspire a healthier digital lifestyle for everyone, with stylish eyewear that lasts.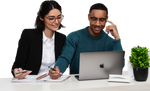 Why block digital blue light?
Natural blue light is emitted by the sun and there couldn't be anything healthier but when blue light comes from your phone, laptop or any other digital device, it can have the opposite effect.

Overexposure causes many problems such as disturbed sleep, eyestrain, headaches and more.
Absorb light, absorb more of life with Milson Park lenses.
Most blue light glasses reflect light but at Milson Park, we do things differently.
Our proprietary lenses have an Ultraviolet (UV) inhibitor dispersed in the lens material itself, which filters light by absorbing it.
Why does this matter? It means healthy, natural light can flow through your lenses and unhealthy digital blue light will be filtered out in order to prevent symptoms such as eyestrain, blurry vision, dry eyes and retinal damage.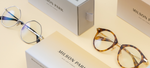 Reasons to stay absorbed in Milson Park Glasses
Testimonials
"Amazing quality and style, and help my eye strain 100%!"

Ralph

"These are great computer glasses and stylish! I get plenty of compliments"

Tanya

"Best purchase ever. My headaches have gone away since using these at work"

Michelle

"I received my glasses today and at the end of the workday I feel fantastic! NO HEADACHE & NO TIRED EYES! Can't thank you enough for saving my eyes in the long run, definitely worth the money!"

Frank

"These glasses help so much! No more dry eyes or tired eyes after long hours writing or gaming! These glasses have been awesome eliminating headaches as well!"

Jessica

"Great computer glasses. I can now work all day without the tired sore feeling in my eyes that used to occur after only a few hours of computer work"

Mauro

"Great quality glasses! my eyes feel a lot better since wearing them. I love the fact that the colour of my screen doesn't change - essential for work in video. I can wear them around and they're both stylish and comfortable. Great buy!"

David